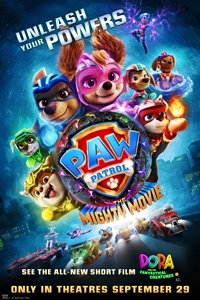 When a magical meteor crash lands in Adventure City, it gives the PAW Patrol pups superpowers, transforming them into The MIGHTY PUPS! But things take a turn for the worse when the pups' archrival Humdinger breaks out of jail and teams up with Victoria Vance, a meteor-obsessed mad scientist, to steal the superpowers and turn themselves into supervillains.
Animation
1 hr 35 min
Opened October, 5th 2023
PG for for mild action/peril.
McKenna Grace
Taraji P. Henson
Marsal Martin
Christian Convery
Ron Pardo
Lil Rel Howery
Kim Kardashian
Chris Rock
Serena Williams
Alan Kim