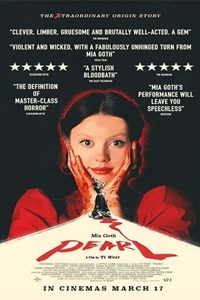 Trapped on her family's isolated farm, Pearl must tend to her ailing father under the bitter and overbearing watch of her devout mother. Lusting for a glamorous life like she's seen in the movies, Pearl's ambitions, temptations, and repressions all collide.
Horror
1 hr 42 min
Opened September, 16th 2022
R for for some strong violence, gore, strong sexual content and graphic nudity.
Mia Goth
David Corenswet
Tandi Wright
Matthew Sunderland
Emma Jenkins-Purro