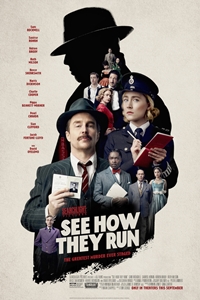 In the West End of 1950s London, plans for a movie version of a smash-hit play come to an abrupt halt after a pivotal member of the crew is murdered. World-weary Inspector Stoppard and eager rookie Constable Stalker take on the case.
Suspense/Thriller
1 hr 38 min
Opened September, 16th 2022
PG-13 for for someviolence/bloody images and a sexual reference.
Sam Rockwell
Saoirse Ronan
David Oyelowo
Adrien Brody
Ruth Wilson