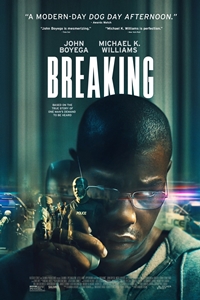 When Marine Veteran Brian Brown-Easley is denied support from Veteran's Affairs, financially desperate and running out of options, he takes a bank and several of its employees hostage, setting the stage for a tense confrontation with the police. Based on the true story.
Suspense/Thriller
1 hr 43 min
Opened August, 26th 2022
PG-13 for for some violent content, and strong language.
John Boyega
Michael Kenneth Williams
Nicole Beharie
Connie Britton
Olivia Washington
Selenis Leyva
Abi Damaris Corbin, Kwame Kwei=Armah