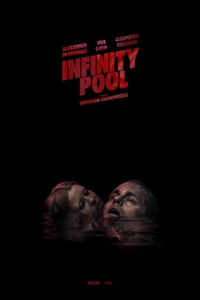 James and Em are young, rich, in love, and on vacation. Their all-inclusive resort boasts island tours and gleaming beaches. But outside of the hotel gates waits something much more dangerous and seductive, beyond the edge of paradise.
SciFi/Fantasy
1 hr 58 min
Opened January, 27th 2023
R for for graphic violence, disturbing material, strong sexual content, graphic nudity, drug use and some language.
Mia Goth
Alexander Skarsgård
Thomas Kretschmann
Cleopatra Coleman
Amanda Brugel
John Ralston
Caroline Boulton
Jeff Ricketts
Jalil Lespert