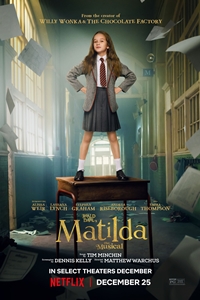 Matilda is the film adaptation of the multi-award-winning and massively successful stage musical. It tells the story of an extraordinary girl who, armed with a sharp mind and a vivid imagination, dares to take a stand to change her story with miraculous results.
Comedy
1 hr 57 min
Opened December, 9th 2022
PG for for thematic elements, exaggerated bullying and some language.
Alisha Weir
Emma Thompson
Andrea Riseborough
Stephen Graham
Sindhu Vee