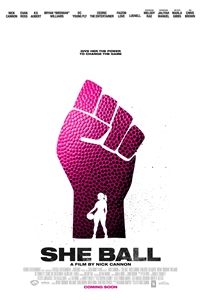 On a mission to save his Inglewood community center, Avery Watts (Nick Cannon) enlists a talented basketball player, Shelby (Melody Rae), to help him win the grand prize in a street ball tournament. Together, Avery and Shelby challenge local politicians, gangs and their own stereotypes to save their community.
Drama
1 hr 40 min
Opened August, 6th 2021
R for for language throughout, sexual material, drug use and brief violence.
Nick Cannon
Chris Brown
Bryan "Birdman" Williams
DC Young Fly
Cedric the Entertainer
Melody Rae
KD Aubert
Jaliyah Manuel