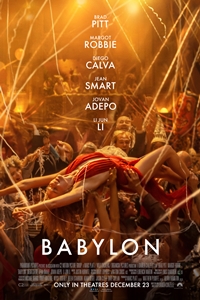 From Damien Chazelle, BABYLON is an original epic set in 1920s Los Angeles . A tale of outsized ambition and outrageous excess, it traces the rise and fall of multiple characters during an era of unbridled decadence and depravity in early Hollywood.
Drama
3 hr 09 min
Opened December, 22nd 2022
R for for strong and crude sexual content, graphic nudity, bloody violence, drug use and pervasive language.
Brad Pitt
Margot Robbie
Diego Calva
Jean Smart
Jovan Adepo
Li Jun Li
P.J. Byrne
Lucas Haas
Olivia Hamilton
Tobey Maguire